Education & Workshops
by-wire.net loves to expand innovative fashion by sharing knowledge. Marina Toeters educates HKU fashion students in ecology & technology by Introducing innovative materials and new processes to our future fashion designers. At the Eindhoven University of Technology she coaches industrial design students in the Wearable Senses theme. And product development to the textile students at Saxion Enschede. Besides that Marina gives lectures and seminars for client-specific-issues and advises designers interested in material and process innovation. Interested in a hands-on workshop? Get in touch!
Soft Switch Instructable

Download here the Soft Switch Instructable >>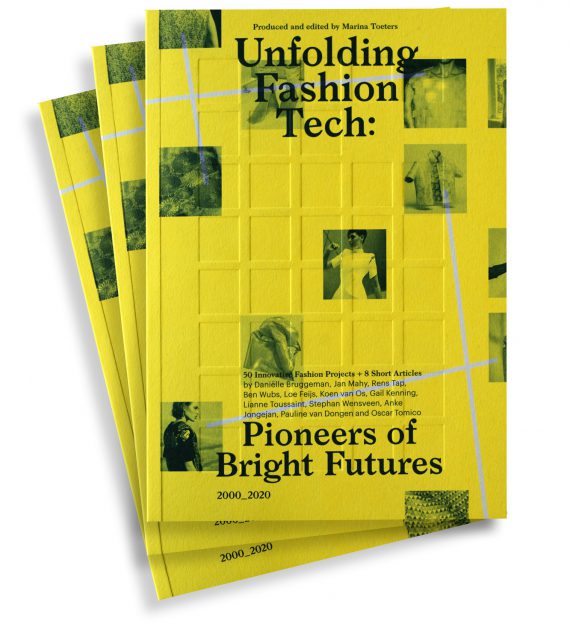 Onomatopee 167, Marina Toeters / by-wire.net, 2019
Unfolding Fashion Tech: Pioneers of Bright Futures
Order now!!! €24 ex. shipping.  @Onomatopee  Or feel free to email me for inquiries.
Content: 50 Innovative Fashion Projects + 8 Short Articles by Daniëlle Bruggeman, Jan Mahy, Rens Tap, Ben Wubs, Loe Feijs, Koen van Os, Gail Kenning, Lianne Toussaint, Stephan Wensveen, Anke Jongejan, Pauline van Dongen and Oscar Tomico.
read more
Seminar Fashion, Theater, Interaction students @HKU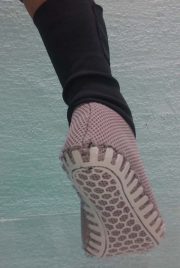 Wearable technology applications for footwear are increasingly popular as a field of interest for companies in all market segments. In this workshop, Marina Toeters of by-wire.net went over the basics of input-output and programming to understand not only what is possible to achieve through wearable technology, but also what is wanted and what can change with the use of these new opportunities. SLEM organized this workshop. Here a few results out of the 4-days workshop. read more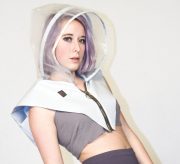 Find here a selection of results out of a two-week seminar with 20 design students of the Utrecht School of Arts, guided by Marina Toeters. read more
In September 2014 I had the pleasure to run a workshop week together with Jos van der Weele and the extremely talented Interaction Designers of the Umeå Institute of Design. Here some results. Thanks Thu Thuy Nguyen, Kallirroi Pouliadou, Johan Grönskog, Emily Keller, Henrike Feckenstedt, Henriette Stykow and Dongzhi Xia.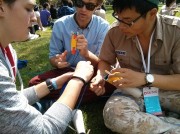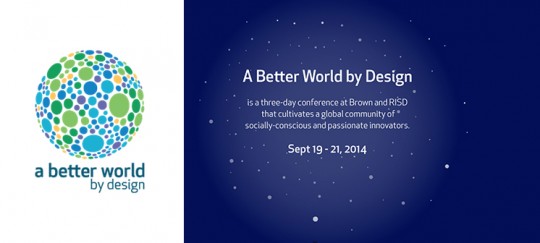 One of the best experiences in 2014 was to participate in the  'a better world by design' event in Providence, Rhode Island USA. Pierie, one of the wonderful organizers of this event wrote this in her thank-you-letter: "The (3) workshops were incredible – collaborative and engaging and fascinating and your talk tied together all the ideas in a beautiful way."
It was so lovely to work with all these super enthusiastic people and I would like to thank Matthijs Vertooren and Jesse Asjes for all their help and support during these lovely days in Providence USA!
The movie shows the result out of the "activating an outfit workshop". The three pictures show the "Guerrilla Stretch Sensor Knitting workshop" on the grass at lunch.
read more
Make your own music instrument out of stretchy fabrics, conductive yarns and electronics:
part 1 technique and part 2 stretch sensor is a combined workshop, appropriate for children at the age of 9 — 12 years with the help of their parents. Developed by Daisy van Loenhout and Daniëlle de Jonge.
Do you know how to re-use old materials in a creative and original way? In this workshops we will use the 3D weave technique and give old materials a new life!  For children at the age of 6 — 9 years. Developed by Kris van Loon.
Design your own cuddly out of wool felt, a small lamp and other electronics. For children at the age of 3 — 6 years. Developed by Roos Buitendijk.

Are you a true inventor? Build your own weave machine out of wood, plastic, baskets and little sticks. Follow the instructions or design your own machine! For children at the age of 3 — 6 years. Developed by Tessa Tailford and Zoé Daemen.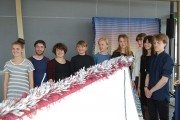 For the sixth year, the TextielMuseum is organising the European Textile Trainee (ETT) programme. Nine talented, international master's students with a passion for textiles, technology and materials, will immerse themselves for five weeks in the possibilities of textiles. Marina Toeters coached the students throughout their process. More info >>
read more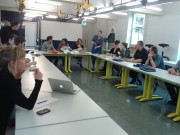 As preparation on the ETT project all textile experts and technologists of the TextielMuseum were invited to join a workshop in soft electronics.
read more
27th March 2014: 'On Trend – High Fashion meets High Technology' @UCL in London Text with help >>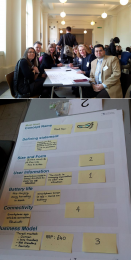 This one-day event brought together practitioners from fashion design, and wireless technology, working at the cutting edge – where fashion and technology meet. Speakers include Dr Sally Day of UCL, me: Marina Toeters of by-wire.net, Koen van Os of Philips Research, Rob Milner of Cambridge Consultants and Francesca Rosella of CuteCircuit.
read more