Future Devices event of Cambridge Wireless in London
27th March 2014: 'On Trend – High Fashion meets High Technology' @UCL in London Text with help >>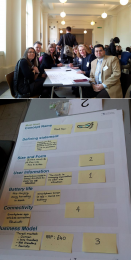 This one-day event brought together practitioners from fashion design, and wireless technology, working at the cutting edge – where fashion and technology meet. Speakers include Dr Sally Day of UCL, me: Marina Toeters of by-wire.net, Koen van Os of Philips Research, Rob Milner of Cambridge Consultants and Francesca Rosella of CuteCircuit.

With the buzz around wearable technology such as smart watches and augmented reality glasses, this London event takes a radically different look at wearable consumer electronics, providing a fresh approach on the blending together of the physical and digital worlds. Cutting-edge technology is changing retail in the fashion world. Designers are working with specialised start-ups, and technology giants, to create wearable consumer devices, novel materials and augmented reality.
The day included presentations and participatory workshop sessions so that delegates had every opportunity to extend their learning by working together in small teams. It was lovely to be involved in the presentation session and by facilitating the workshops. The set-up made it a very active, engaged and fun experience!
This event addressed the importance and implications of the technology and the engineering behind the product. Then explored the potential of these future devices via workshops which provide a range of interactivity solutions with the digital, wireless and on-line world. In depth information of the presenters can be found here >>