Zishi posture sensing garment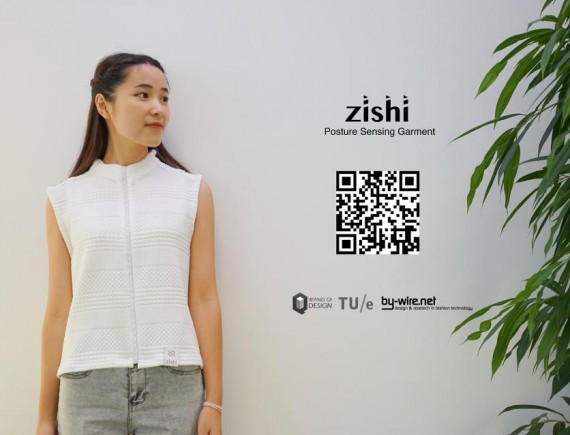 Posture monitoring and correction technologies can support prevention and treatment of spinal pain or can help detect and avoid compensatory movements during the neurological rehabilitation of upper extremities, which can be very important to ensure their effectiveness. Zishi posture sensing garment is designed and developed by Qi Wang, PhD student of TU/e.

by-wire.net helped Qi designing and making the prototype that is currently on show. Have a close look at the detailed and neat integration of conductive circuit + magnets and the magnet zipper!
We focus on the design and development of Smart Rehabilitation Garment (SRG) a wearable system designed to support posture correction. The SRG combines a garment with integrated smart textiles and wearable electronics and an application runs on smart devices. Providing feedback with vibration on the garment, audible alarm signals, visual instruction and training overview.
We explore the placement of sensing modules, the garment design, the feedback design and the integration of smart textiles and wearable electronics that aimed at achieving wearability and ease of use.Design:
Qi Wang
&
by-wire.net
Involved Researchers:
Panos Markopoulos, Wei Chen. TU/e
Photography:
Bart van Overbeeke, Pengcheng An
Model:
Ali Zhao
Zishi will be exhibited in Dutch Design Week 2015 and Dubai Design Week 2015.
Smart Rehabilitation Garment for Posture Monitoring, design by Qi Wang, Industrial Design, TU Eindhoven, inzending voor Dutch Design Week / Mind the Step 2015.
foto: Bart van Overbeeke