The making of…. closed loop smart atheleisure fashion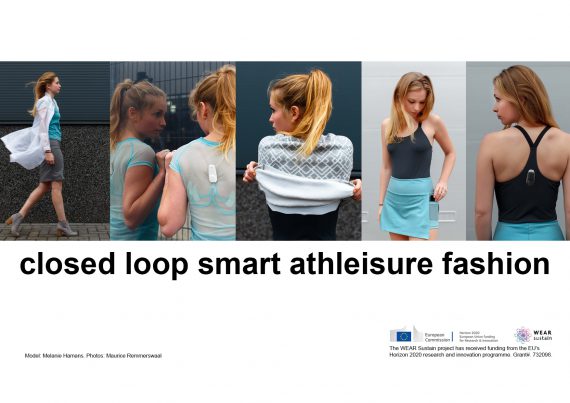 by Marina Toeters • by-wire.net | Margreet de Kok • Holst Centre | Melissa Bonvie • Katoen Enzo:
The closed loop smart athleisure fashion items continuously measure the wearers' key vital signals via printed and laminated sensors. It targets fashionable sportive ladies at office work and right after work; they embrace forward thinking and are taking care of themselves.
Our ambition is to put a full service circular proposition in place. Local production and a closed loop service system are our key aims.
Our project is about how to produce and maintain sensor garments and which kind closed loop service models could be attractive for the market development. So from a technical perspective we try to design for dismantling, re-use or recycling. The material choices are first being made with the performative qualities in mind and second to enable the recycling process. We managed for example to get our hands on Econyl textile, which is a recycled material existing out of polyamide.

closed loop smart athleisure fashion collection based on previous work of Marina Toeters and Margreet de Kok. Via 3 iterations they developed a smart shirt that continuously measures the wearers' key vital signals based on Holst Centre's advanced printed sensor technologies on flexible substrates for textile integration. The laminated sensors are truly wearable, comfortable, robust, invisible during use, washable up to 25 cycles, and designed for unobtrusive integration in conventional fashion production. Unfortunately market pull is still hardly there.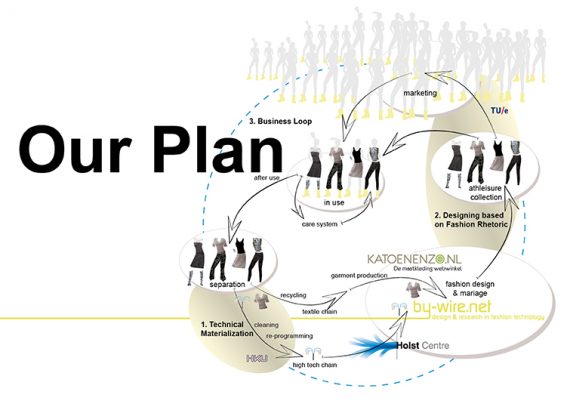 This collection will target fashionable sportive ladies at office work and right after work, they embrace forward thinking. It will be validated and disseminated in a service model in order to accelerate market pull. Our approach is based on three pillars:
1. Technical Materialization: The technical part will be a research on separation of the laminated sensor technology from the textile after the lifetime of the garment. This is innovative and necessary to be able to recycle the product in a proper way.
2. Designing based on Fashion Rhetoric: In the 3 previous iterations we focused merely on the functionality. With Melissa Bonvie from now on we focus exclusively on the fashionable aspects like aesthetics, desirability, fit current trends and societal tendencies to comply with conventional fashion design processes.
3. Business Loop: We want to certify that these garments become fertile in a closed loop system in which we design for the afterlife or next life of the product/parts. Together with the key stakeholders we will put the service- model into place around the target group. We will make a start to calculate and assess the feasibility of the model from a business perspective.
This closed loop system is an innovative approach in the field of wearable technology as, till now, there is not too much research available on afterlife of electronic garments and potential recyclability. By introducing reuse of the electronic components and garments in the service model we foresee to contribute to solving some of the environmental (1) issues of wearables. With this service model we also anticipate to develop a sustainable economic model (6) by decreasing the cost of ownership of the sensor functionality by multiple usages. With this economic model we fund the development of more caring and supportive garments and contribute to a stronger and more environmentally responsible garment industry. >>
closed loop smart athleisure fashion will be funded by WEAR Sustain. Find here the related page: https://network.wearsustain.eu/actors/AVz0NMNBQOlYgiHmIq6J
Pitch of the plan: before the project start.
Report 1: after 2 months of work.
Report 2: after 3 months of work.
Report 3: after 4 months of work.
Report 4, after 5 months of work.
We are so honoured to announch that the Closed Loop Smart Athleisure Fashion project is chosen as Top 3 Next Tex Innovations: "Together with Munich Fabric Start and FashNerd, we [Sourcebook] thought your work particularly stood out and fits perfectly with what we want to communicate at our Next Tex Innovations Showcase." Thanks for these nice words Sourcebook! The project will be featured during the Munich Faric Start end of January 2018.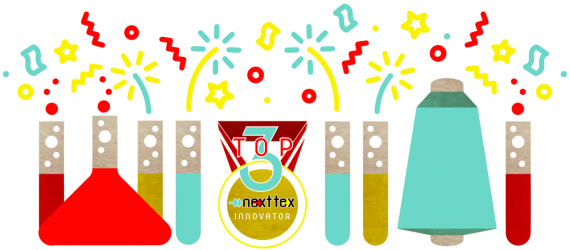 The WEAR Sustain project has received funding from the European Union's Horizon 2020 research and innovation programme under grant agreement No. 732098. This publication reflects only the author's views. The sole responsibility of this publication lies with the WEAR Sustain Consortium. The European Commission is not responsible for any use that may be made of the information contained therein.