Human & Kind • by-wire.net for Moon Life [ESA]
In 50 years the Moon Life Academy and ESA expect that bigger groups of people could live on the moon. To make the moon and society ready for this big step there needs to happen a lot. Like how to link humanity and kindness to protection against an absurd and technical environment?
The European Space Agency (ESA) and the Moon Academy collaborated, to discover new concepts for living on the moon. Therefor they asked several designers and artists to create concepts and visions about how we, as society, could and would become 'moon habitants'. Alicia Framis of the Moon Life Academy asked Marina to join the Moon Life team to explore design concepts in the field of fashion.
Alicia asked Marina's input because of her experience with new (smart) textiles. Textile communicates good with the body and brings softness and tactility in life. On the moon, humans will have to depend heavily on technology. However, technology is not know for its softness.
Which textiles would suit best to moon life? Find here more about this extensive research!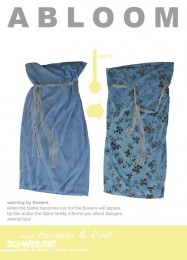 Marina started a material library with over 80 different textiles which might have both, soft and technical characteristics. She tested the materials and found out some extreme qualities that could fit different concepts connected to the moon life, like light weight, extreme heavy, fire proof, biodegradable.
For the soft side she worked with the concept of how to feel 'home' on the moon. In space you are physically far away from your roots, this has a major impact to the emotion of humans. Feeling lost, homesickness and a woolly feeling in your brain. How could fashion make home feel closer, and protect you against an absurd environment?
For example, a flower pattern popping up when the environment becomes too hot, fire-resistant aramid lace finishing, an antibacterial knitted top and a shirt lighting up when he discovers the presence of life. Find here all final results!
In the end 17 different items where created with different expert-specifications, like most emotional connected to earth, most protective, most communicative, most comfortable, most hygienic, etc.
The collection is looking for contradictions and links between future and past, moon and history; sometimes the model seems to float in space, or the location seems to turn some degrees.
By these garments Marina visualizes the design and functional possibilities of technical innovations in textile in a human and kind way. This will bring us back to the material research and all the opportunities that are still in the library.
Thanks to:
confection: katoenenzo.nl, Melissa Bonvie
lace factory: Museum de Kant Fabriek
electronics: Contrechoc
knitting: jsssjs.com, Jesse Asjes
laser/plot: Protospace
nitrogen: KI Dalfsen
technical: Matthijs Vertooren
photos: Maarten van der Meer
hair & visa: Anna Edvardsen
models: Melinda, Kyra, Adam, 77 models
hand knitting: oma Mientje Toeters – Kleinjan
finishing: Janny Loozeman
sponsored by: Fonds BKVB: The Dutch Foundation for Visual Arts, Design and Architecture.
Marina Toeters • by-wire.net