Museum de Kantfabriek Duo expo: Mop-Up 3 and Innovative Fashion and Smart Textile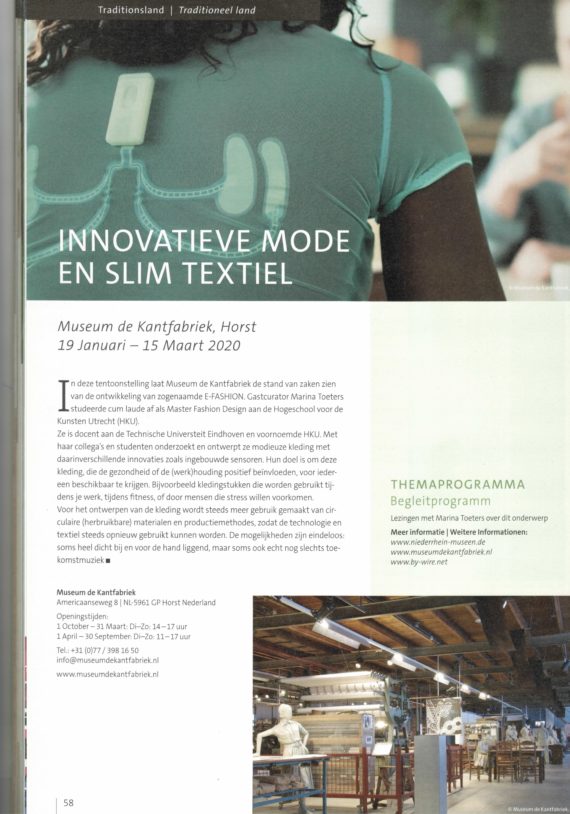 from January 19 to March 15, 2020

Museum de Kantfabriek wants to offer a stage for developments in the field of textile. This includes showing graduation work from fashion and textile students from Dutch Art Academies. But prototypes and outfits from Eindhoven University of Technology and St Lucas Boxtel are also products from students and teachers that we would like to show to take the visitor into the (near) future of fashion.
Guest curator Marina Toeters – lecturer TU / e, initiator of by-wire.net and the Fashion Tech Farm in Eindhoven – her colleagues and students research new textiles, production techniques and make sensor clothing with the aim of making fashion more sustainable and relevant. Outfits of the following designers can be seen: Annet Couwenberg, Daniëlle Ooms, Eva van der Born, Jori van der Kolk, Rachelle Kraal, Fabienne van der Weide, Jessica Joosse, Gail Kenning, Daisy van Loenhout, Bruna Goveia, Melissa Bonvie and Margreet the Cook.
The project of Danielle Ooms, for example, aims to create sustainable and circular fashion. The result is a biodegradable apple-based material; similar to leather, but without a harmful effect on nature. The intention is to grow the desire for the aesthetics and the feeling of the material and the garment, with no impact on the environment.
Mop-Up 3 shows graduation work from ARTEZ Arnhem, MAFAD Maastricht, AMFI Amsterdam, Willem de Kooning Rotterdam and from St. Lucas Boxtel. Participants are Lisa Bisschop, Max Niereisel, Jolieke Kessels, Julina Vanille Bezold, Robin Cuppen, Kaylee Nieuwenhuizen, Ferry Schiffelers, Renee Augustinus, Laura Knüwer, Charlotte Kuilboer and Chloë Severien.
Qi, Julina Vanille Bezold, for example, refers to a part of the ancient Chinese Philosophy, the Chinese Wu Xing, which stands for the five elements and five colors. The collection therefore consists of five outfits. Through the direct application of a design manifesto, Qi undertakes the experiment to go beyond trends. Because a body brings a garment to life, the collection is gender and age neutral with a one-size-fits-most approach and also completely biodegradable.