Imec and Holst Centre Showcase Advanced Smart Garment at ITF Brussels 2015
Press release: June 24, 2015 – Today, imec and Holst Centre are demonstrating the most advanced smart garment to date at the Imec Technology Forum (ITF) in Brussels. The smart t-shirt measures a highly accurate electrocardiogram (ECG), recognizes activity and calculates energy expenditure in an unobtrusive way. The t-shirt features imec and Holst Centre's flexible smart fabric interconnect technology, and miniaturized electronics. The smart t-shirt allows for maximum user comfort and natural movement.
A project from Holst Centre. Photo's by Marc Koetse. Shirt design and prototyping of the shirt is done by us: by-wire.net.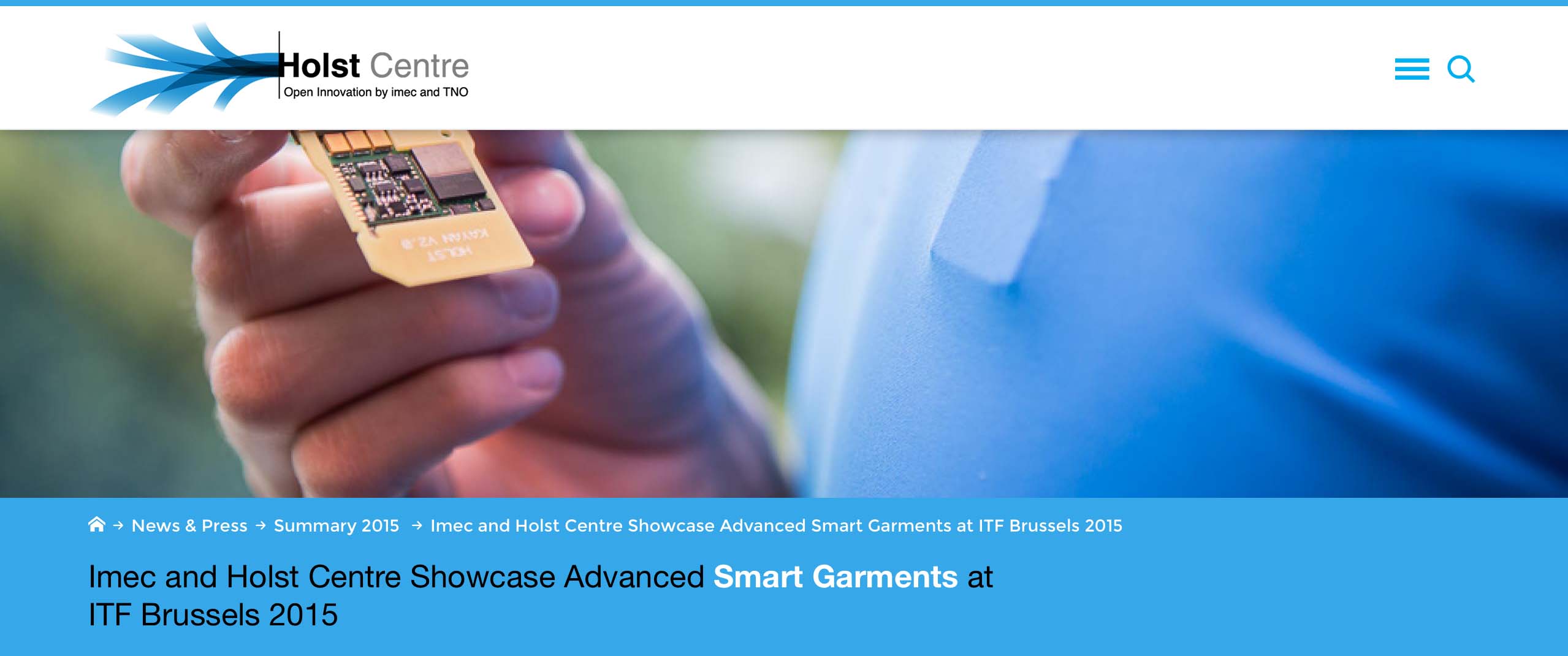 "Wearable technology that measures body parameters has become increasingly popular in recent years. Smart garments have the ability to tackle a vast range of applications from fitness tracking and healthcare monitoring to safety applications, such as firefighters working in dangerous situations. Today, on-body sensing is performed using very tight, compression garments. At imec and Holst Centre, we want to extend the functionality of smart garments and deliver medical-grade data through looser, everyday clothes," said Ruben de Francisco, Program Manager Wearable Health Solutions at imec/Holst Centre.
Imec and Holst Centre demonstrate at ITF Brussels 2015 a t-shirt with ECG and motion sensing. The t-shirt can monitor data such as the wearer's heart rate, heart rate variability, activities performed and calories burned, and share information over the cloud via a mobile phone, tablet or PC.
The t-shirt features imec and Holst Centre's flexible smart fabric interconnect technology, and miniaturized electronics (1.5cm x 2cm x 2mm) integrated into a module of the size of an extended SD card, containing imec's high accuracy and ultra-low power multi-sensor data acquisition chip (MUSEIC) with embedded processing, a battery and a Bluetooth Low Energy radio chip. The module weighs only 7 grams (including the battery), and can be removed to wash the shirt or charge the battery.
Imec and Holst Centre's patented flexible and stretchable interconnect technology preserves the original properties of the fabric, so that the t-shirt remains flexible, stretchable, breathable, lightweight and washable. It also gives complete freedom in placing sensors, actuators and electronics to ensure the highest data quality. All the steps used to integrate the smart electronic functionality –including the lamination technique and interconnect technology– are fully compatible with most standard material production processes and conventional textile manufacturing, enabling rapid industrialization.
"The power consumption of our smart t-shirt has been optimized to achieve long battery autonomy, enabling a wearer to be continuously monitored for the equivalent of three Iron Man races back-to-back. It also offers the perfect platform to integrate additional capabilities such as breathing rate measurements and dehydration monitoring. And we are exploring ways to extend the functionality and to render the garment more communicative, e.g. to feedback the data to wearers. This can be done by integrating simple LED indicators, actuators for haptic feedback or, in the longer term, smart display technologies," added Jeroen van den Brand, Program Manager Integration Technologies for Flexible Systems at Holst Centre/imec. Info from the Holst Centre website >>