Depending… for Elephantasia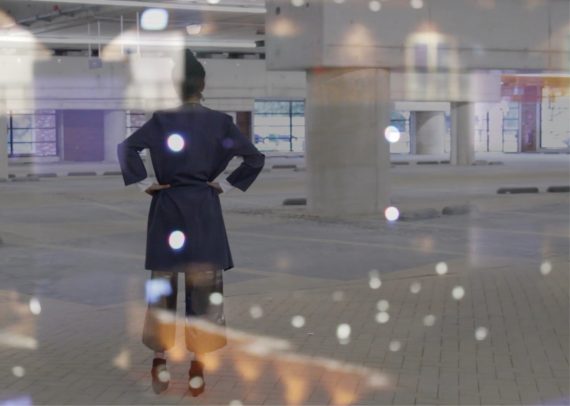 By-wire.net designed an interactive collection consisting of 9 clothing pieces of which 3 can interact and react upon each other. Trying to bridge the gab between the fashion design and technology to innovate the fashion industry. Garments can support the wearer, E-fashion cares for us!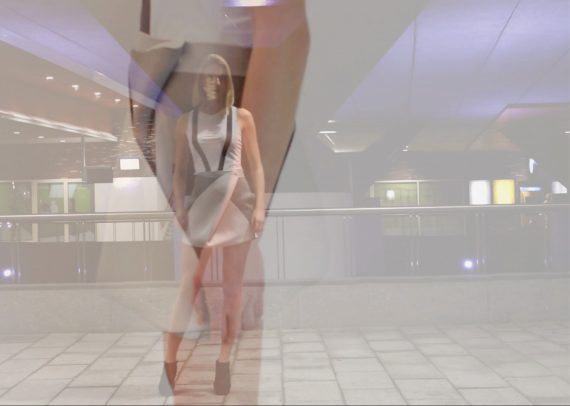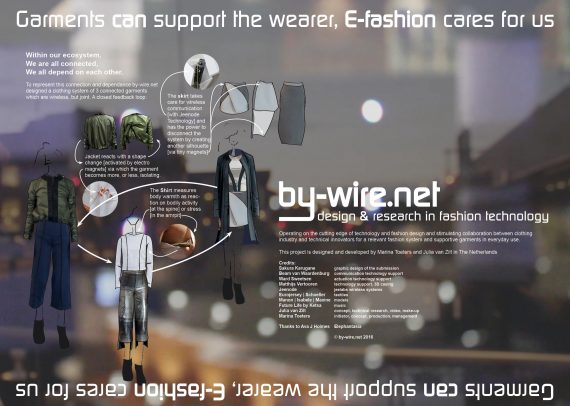 Within our ecosystem,
We are all connected,
We all depend on each other.
To represent this connection and dependance by-wire.net designed a clothing system of 3 connected garments
which are wireless, but joint. A closed feedback loop:
The skirt takes care for wireless communication [with Jeenode Technology] and has the power to disconnect the system by creating another silhouette [via tiny magnets]
The Shirt measures body warmth as reaction on bodily activity [at the spine] or stress [in the amrpit].
Jacket reacts with a shape change [activated by electro magnets] via which the garment becomes more, or less, isolating.
Operating on the cutting edge of technology and fashion design and stimulating collaboration between clothing industry and technical innovators for a relevant fashion system and supportive garments in everyday use.
This project is designed and developed by Marina Toeters and Julia van Zilt in The Netherlands
Credits:
Sakura Karugane • graphic design of the submission
Beam van Waardenburg • communication technology support
Ward Sweetsen • actuation technology support
Matthijs Vertooren • technology support, 3D casing
Jeenode • jeelabs wireless systems
Eurojersey | Schoeller • textiles
Manon | Isabele | Maxine • models
Future Life by Ketsa • music
Julia van Zilt • concept, technical research, video, make-up
Marina Toeters • initiator, concept, production, management
Thanks to Ava J Holmes Elephantasia
© by-wire.net 2016
Download here the PDF-flie (low res) >>
Depending will be featured for Elephantasia. Elephantasia, represents the "fashion for conservation" movement through catwalk and art exhibitions globally.
For the first time, Elephantasia will be exhibited during Eco Fashion Week in Seattle USA, Nov. 2016 informing and inspiring the fashion-conscious, and sustainable-minded alike in a way that harmonizes beauty and the environment. After all, innovation in fashion — the future of chic — is inextricably linked to innovation in sustainability.  More information about this event here >>