fPDP selected for the international conference on culture and computing, Kyoto, Japan
Creative Programming and Generative Arts: Pied de Poule
Marina Toeters at by-wire.net loves to expand innovative fashion by sharing knowledge and Feijs loves making contributions to the field of creative programming and apply them. The proposed artwork, combines culture, mathematics, fashion, computing, and innovative material processing. More info >>
InFashion • Meet Solar Fiber in Hotel Dom Utrecht

From friday till sunday you can have a peek of our solar fiber project! www.solarfiber.nl
fPDP: a novel textile pattern, accepted for Bridge conference
Two art works of Professor Feijs (TU/eindhoven) and Marina Toeters (tech fashion designer) are accepted for the Bridge conference. The works are each a combination of fashion, new technology, and mathematics. 1) Drapely-o-lightment is a skirt designed around the themes of drapability and light. 2) fPDP is a novel textile pattern: fractal Pied de Poule. fPDP is applied in the design of a men's jacket.
fPDP, Fractal Pied de Poule Jack by Marina Toeters and Loe Feijs, photos Brian Smeulders, model Stephanie Samson. Cotton/polyester, laser cut, welded, 2013
The pattern is generated by a recursive algorithm in Processing, post-processed in Adobe Illustrator and cut with a Speedy300 laser cutter at TU/e. The jack was designed and welded in the fashion technology studio by-wire.net. There exists a classical pied de poule for each N =1,2,3 etc. Taking inspiration from the Cantor set, and using the analysis of the classical pattern, we found a family of elegant new fractal Pied de Poules. At Bridges, the fPDP jacket will be displayed on a mannequin. The outer layer of white fabric has been laser-cut and the tiny holes reveal the black layer underneath.
20130630 e-textile swatch – Skin patch with magnet zipper
As member of the E-textile group I was asked to contribute to a e-textile swatch book. As by-wire.net is developing products worn close to the body I tried to address some discussion topics that often occur during the process. Four of them are combined in this e-textile swatch.
1) Skin tactility: three 'feels' can be experienced composed out of 1 kind of material through lamination.
2) Measuring resistance: when 2 of these conductive components are placed on for example the body, and connected as + and – component changes in resistance can be measured.
3) Handling of the products: items on the body need to be opened and closed quite often. Here a magnet zipper solution for this.
4) System construction: I tried to bring some materials, functionalities and concepts together in clean and somewhat aesthetically pleasing swatch by using the laser cutter and hot-melt lamination.
All these aspects are learning's and ongoing developments in several projects.
Making process
1) Prepare fabrics with vliesofix + iron
2) Laser-cut all the parts
3) Glue via hotmelt the parts together, while using a template for the 3d shaped botton
4) Glue the magnets (as they can't handle the needed heat of the hotmelt) with textile adhesive
20130523 announcement Smart Fabrics 2013 Barcelona, Spain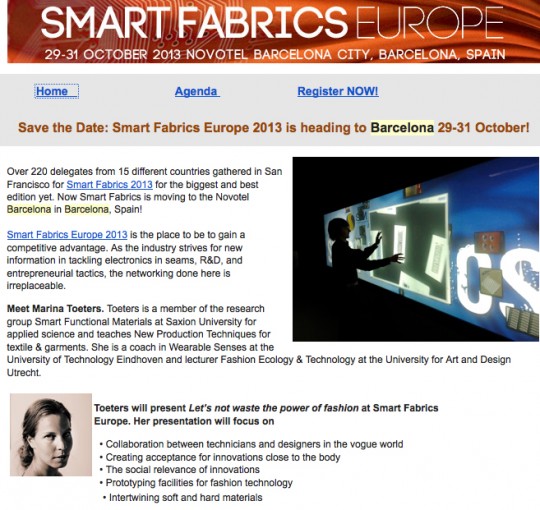 Reed more about this conference.
Or read an interview with Marina Toeters on smart fabrics trends, innovation, and what she's looking forward to most at Smart Fabrics Europe.
20130215 Interactive fashion article in the VPRO Gids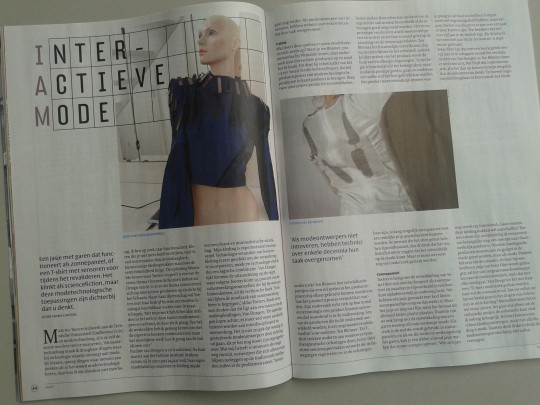 Download here the complete article (in Dutch).
20130207 Saxion Living Technology – Marina Toeters
20130129 Crossover Works #1 Highlight 02 more than fashion
An interview and photoshoot in the studio onof by-wire.net  page 34-39. Download the total booklet.
Or reed more about the booklet initiative: clicknl.nl
20130120 Amsterdam Fashion Week: pop-up catwalk
Marina Toeters was invited to show two looks during the opening weekend of the Amsterdam Fashion Week. Together with Professor Loe Feijs she showed the Drapely-o-lightment and a few OLED accessoires. Together with team Solar Fiber she showed the Cell Jacket and a Solar Fiber dress from Meg Grant.