Smart textile workshops for kids – ZigZag festival Sept. 5 in Amsterdam
With the help of 7 talented students by-wire.net developed 4 smart textile workshops for kids between 3 and 12 years old. The ZigZag events aim to stimulate children, their families and teachers to learn more about the art of textile.
Commissioned by Waag Society for the ZigZag project. More info >>
1) Sound Embracer


Make your own music instrument out of stretchy fabrics, conductive yarns and electronics:
part 1 technique and part 2 stretch sensor is a combined workshop, appropriate for children at the age of 9 — 12 years with the help of their parents. Developed by Daisy van Loenhout and Daniëlle de Jonge.
2) Cable Monster
Do you know how to re-use old materials in a creative and original way? In this workshops we will use the 3D weave technique and give old materials a new life!  For children at the age of 6 — 9 years. Developed by Kris van Loon.
3) Light Cuddly

Design your own cuddly out of wool felt, a small lamp and other electronics. For children at the age of 3 — 6 years. Developed by Roos Buitendijk.
4) My Machine

Are you a true inventor? Build your own weave machine out of wood, plastic, baskets and little sticks. Follow the instructions or design your own machine! For children at the age of 3 — 6 years. Developed by Tessa Tailford and Zoé Daemen.
Edit and camera: Naomi-Jamie Venetiaan. All over assistance by Daisy van Loenhout.
Marina participates at 'a better world by design', Providence, Rhode Island USA
One of the best experiences in 2014 was to participate in the  'a better world by design' event in Providence, Rhode Island USA. Pierie, one of the wonderful organizers of this event wrote this in her thank-you-letter: "The (3) workshops were incredible – collaborative and engaging and fascinating and your talk tied together all the ideas in a beautiful way."
It was so lovely to work with all these super enthusiastic people and I would love to thank Matthijs Vertooren and Jesse Asjes for all their help and support during these lovely days in Providence USA!
The movie shows the result out of the "activating an outfit workshop". The three pictures show the "Guerrilla Stretch Sensor Knitting workshop" on the grass at lunch.
Marina Toeters aims to push boundaries with ETT students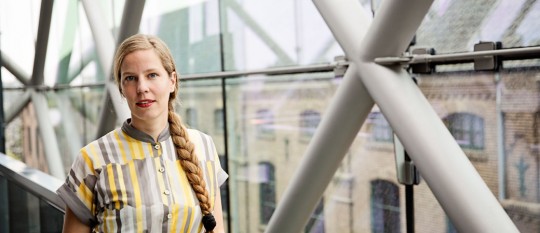 For the sixth year, the TextielMuseum is organising the European Textile Trainee (ETT) programme. Nine talented, international master's students with a passion for textiles, technology and materials, will immerse themselves for five weeks in the possibilities of textiles. Textile expert and designer Marina Toeters will coach the students throughout their stay. More info >>
Picture: Josefina Eikenaar
Design of a nature-like fractal celebrating warp knitting
Marina had the pleasure to design the print and dress out of a Warp Knitting Fractal principle developed by Professor Loe Feijs (TU/e). He presented the results at the Mathematical Art Galleries in Seoel, South Korea.
In earlier work Loe and Marina created a new fractal textile pattern which was derived from the well-known houndstooth pattern which originates from weaving with twill binding. See fPDP >> Now we are turning our attention to another basic fabric construction method: warp-knitting. We develop a recursive algorithm and explore the properties of the result and a fashion item based on the new pattern, presented at Bridges 2014 in Seoel, South Korea. Find here more info about the exhibition. Or download the paper 'Design of a nature-like fractal celebrating warp knitting'.
Thanks to Paulien Klein Paste (HKU) for the digital print and Katinka Feijs for the photo's!
Drapely-o-lightment the movie
by-wire.net is MVO partner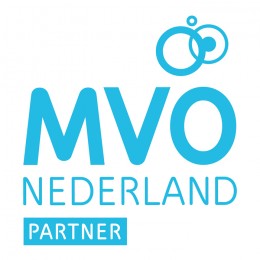 by-wire.net is a fresh MVO partner! Currently we are working with them on a collaborative development towards a more supportive and sustainable work wear collection for care givers.
MVO Nederland (CSR Netherlands) is the national knowledge centre and network organisation for corporate social responsibility (CSR) in one: the place to start for any entrepreneurs wishing to make their commercial operations sustainable.
With CSR a business takes responsibility for the impact of its activities on people and the environment. In 'people and planet' issues the company can see opportunities for new products, services or processes that benefit both society and the business.
Future Devices event of Cambridge Wireless in London
27th March 2014: 'On Trend – High Fashion meets High Technology' @UCL in London Text with help >>
With the buzz around wearable technology such as smart watches and augmented reality glasses, this London event takes a radically different look at wearable consumer electronics, providing a fresh approach on the blending together of the physical and digital worlds. Cutting-edge technology is changing retail in the fashion world. Designers are working with specialised start-ups, and technology giants, to create wearable consumer devices, novel materials and augmented reality.
This one-day event brought together practitioners from fashion design, and wireless technology, working at the cutting edge – where fashion and technology meet. Speakers include Dr Sally Day of UCL, me: Marina Toeters of by-wire.net, Koen van Os of Philips Research, Rob Milner of Cambridge Consultants and Francesca Rosella of CuteCircuit.
The day included presentations and participatory workshop sessions so that delegates had every opportunity to extend their learning by working together in small teams. It was lovely to be involved in the presentation session and by facilitating the workshops. The set-up made it a very active, engaged and fun experience!
This event addressed the importance and implications of the technology and the engineering behind the product. Then explored the potential of these future devices via workshops which provide a range of interactivity solutions with the digital, wireless and on-line world. In depth information of the presenters can be found here >>