20130630 e-textile swatch – Skin patch with magnet zipper
As member of the E-textile group I was asked to contribute to a e-textile swatch book. As by-wire.net is developing products worn close to the body I tried to address some discussion topics that often occur during the process. Four of them are combined in this e-textile swatch.
1) Skin tactility: three 'feels' can be experienced composed out of 1 kind of material through lamination.
2) Measuring resistance: when 2 of these conductive components are placed on for example the body, and connected as + and – component changes in resistance can be measured.
3) Handling of the products: items on the body need to be opened and closed quite often. Here a magnet zipper solution for this.
4) System construction: I tried to bring some materials, functionalities and concepts together in clean and somewhat aesthetically pleasing swatch by using the laser cutter and hot-melt lamination.
All these aspects are learning's and ongoing developments in several projects.
Making process
1) Prepare fabrics with vliesofix + iron
2) Laser-cut all the parts
3) Glue via hotmelt the parts together, while using a template for the 3d shaped botton
4) Glue the magnets (as they can't handle the needed heat of the hotmelt) with textile adhesive
20130523 announcement Smart Fabrics 2013 Barcelona, Spain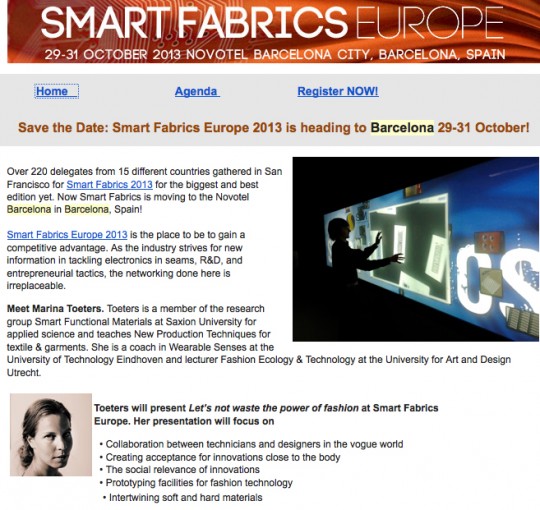 Reed more about this conference.
Or read an interview with Marina Toeters on smart fabrics trends, innovation, and what she's looking forward to most at Smart Fabrics Europe.
20130215 Interactive fashion article in the VPRO Gids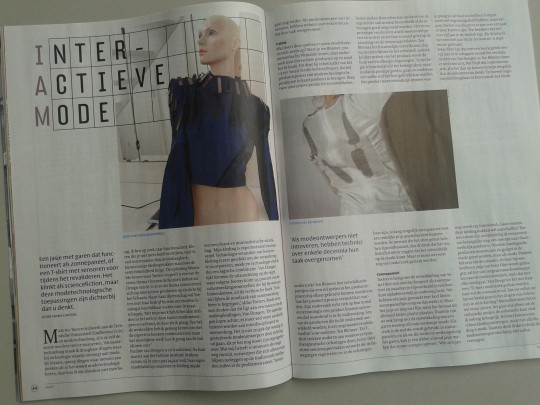 Download here the complete article (in Dutch).
20130207 Saxion Living Technology – Marina Toeters
20130129 Crossover Works #1 Highlight 02 more than fashion
An interview and photoshoot in the studio onof by-wire.net  page 34-39. Download the total booklet.
Or reed more about the booklet initiative: clicknl.nl
20130120 Amsterdam Fashion Week: pop-up catwalk
Marina Toeters was invited to show two looks during the opening weekend of the Amsterdam Fashion Week. Together with Professor Loe Feijs she showed the Drapely-o-lightment and a few OLED accessoires. Together with team Solar Fiber she showed the Cell Jacket and a Solar Fiber dress from Meg Grant.
20121123 Drapely-o-lightment with TU/e and Philips Research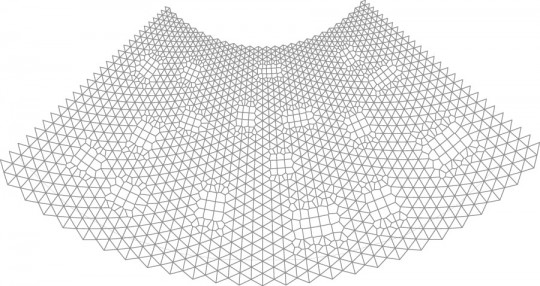 Drapability and light are the two design themes of this skirt. The light sources used are 6 OLEDS (Organic light-emitting diodes), integrated in a fabric consisting out of over 2500 patches.
Drapely-o-lightenment was shown at Architextiles in Tilburg, Place-it in Berlin, and Gouden Geesten in Utrecht and Pretty Smart Textiles Ronse, Belgium.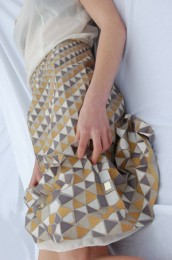 Thanks to: Prof. Dr. Ir. Loe Feijs, TU/eindhoven and Koen van Os, Philips Reserach.
20121122 Analysis of parallel collaboration assignments in smart textile design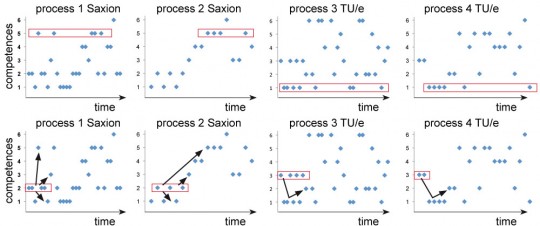 The blue dots are the activities. Horizontal is the timeline from the -left- beginning till the end of the process. The 6 competences are placed on the vertical line:
1. User Focus & Perspective: Getting to know their user.
2. Ideas & Concepts: Creating ideas and transform them into concepts.
3. Social & Cultural Awareness: Reflect on context and existing products.
4. Form & Senses: Design explorations for the actual products.
5. Integrating Technology: Research, develop and implement (existing) technology.
6. Business: Find out how to create a valuable business with the project.
To investigate the different kinds of expertise necessary for the development of Smart Textile Services we initiated an assignment to develop new Smart Textile Services concepts for elderly that can be used during rehabilitation (ten Bhömer, et all 2012) and executed this project in 2 different institutes: Saxion University of Applied Sciences and Eindhoven University of Technology.
Marina Toeters and Ger Brinks from the Saxion Lectoraat Smart Functional Materials presented this paper during the 'Onderzoek voor een vitale regio' congress.
Download the full paper >>
20121120 Design process of a waste conscious scarf with contrechoc
Reporting the design process of an e-textile in the context of awareness of the problems created by textiles containing electronics. Designers should be able to produce a design which takes recycling and pollution into account before it becomes a huge problem when e-textiles are mass produced. The sensor measures the air quality around the scarf.
A collaborative project between contrechoc.com and by-wire.net.