20120819 the first complete e-wearable pervasive game platform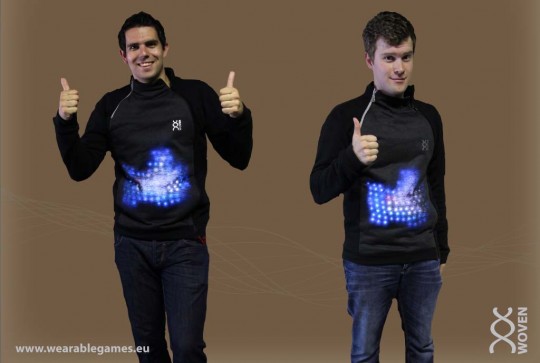 Woven Wearable Games is a Master graduation project at the Utrecht School of the Arts created by Christiaan Ribbens and Patrick Kersten.
This summer Melissa Bonvie and Marina Toeters helped them by designing and making 2 interactive sweaters.
Check the concept around this 'Pervasive Game' and more details: wearablegames.eu
20120622 Presenting a poster for STS-CRISP @Cimtec conference Italy
Cimtec conference "Smart Materials, Structures and Systems" in Montecatini Terme, on June 10 to 14, 2012. Eliza Botterberg (Saxion, Smart Functional Materials) and I (Marina Toeters) had the pleasure to attend this conference. Download the Cimtec Book of Abstracts
Adressed topics (amounst others):
• Photovoltaic textiles
• Textile sensors
• Oled in fiber-shape/size
• Shape Memory Polymers
• Collaborations with Creative's
Carried out as part of the project "Smart Textile Services" sponsored by the Dutch Ministry of Economic Affairs under the CRISP program.
20120606 Interview NRC.next: Harvest energy with your coat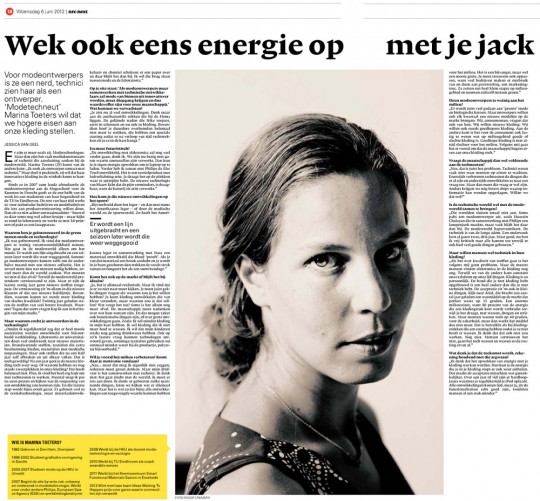 20120523 €5000 price for the best idea: solar fiber
20120421 fashion event In-Fashion Utrecht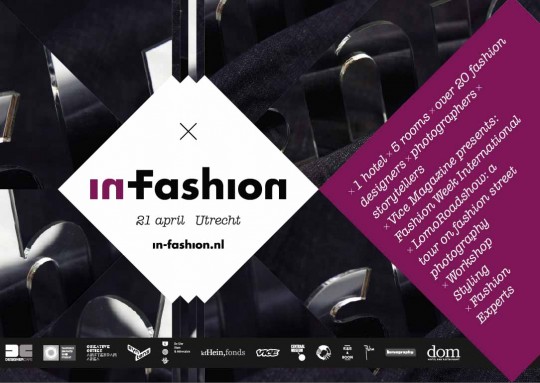 No traditional catwalk, but stories, designs and images of more that 25 fashion designers and experts in Utrecht Centrum. Come and join our story of fashion!
21st of April 13.00 18.00 o'clock. Locations: Hotel Dom, UCK, Springers, Designercafe
13.30 – 14.30 Lectures Fashion & Technology Marina Toeters – by-wire.net & Meg Grant – meggrant.com
More info: infashionutrecht.nl
20120206 suikerspin experiment with Thijs Rijkers
We did an experiment to make new material out of old synthetic fabrics. Thijs Rijkens, student Product Design HKU, made an rotating heating system with little holes to press the material around, as a 'suikerspin-machine'. Here a small collection of jewelry and garment parts. More info about Thijs' work: thijsrijkers.nl
20111227 We wish you a warm, diverse and energetic 2012!