Zorgzame Bedrijfskleding in Trouw (Dutch newspaper)

Crisp – Smart Textile Services expo @Heim Textil
Lovely 2015!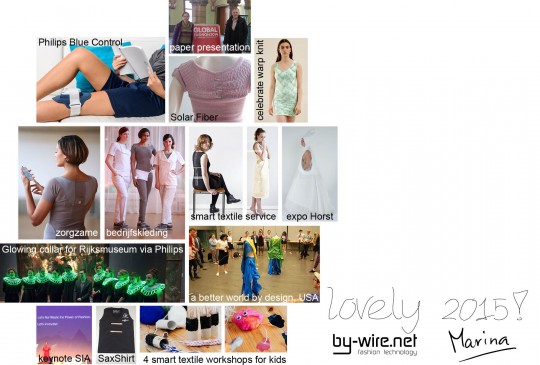 by-wire.international • 2014
London, Sofia Bulgaria, Japan, RI USA, Umeå Sweden, Liverpool, Ghent
Thanks Anke, Antoine, Anton, Beam, Daisy, Ellen, Erik, Esther, Floor, Ger, Gert, Han, Hans, Helene, Henk, Huub, Iris, Janny, Jenny, Jesse, Judith, Koen, Laura, Lilian, Loe, Maarten, Matthijs, Marloes, Melissa, Michiel, Murielle, Nicole, Oma, Omar, Oscar, Pauline, Pierie, Ralf, Robert, Samira, Sander, Sarien, Stephan, Stoffel, Tessa, Tineke, Wim, students @HKU, Saxion, TU/eindhoven, ETT, Umeå, ABWxD and many many many more for this wonderful year!
MVO Sustainable and supportive garments for nurses
Last year by-wire.net was involved in the wonderful development and co-creation process between 4 ambitious care/cure institutes, two work wear producers and some experts. Here pictures of the results during a conference for the health sector in Rotterdam, the 4th of December. See the posture sensor, the gas sensor, the supportive under layer, the futuristic pattern design and the comfortable materials. What you don't see: the materials are as sustainable as possible, so also better for our world. More info here >> (in Dutch). And RTL Boulevard (minute 13:58)
Pictures: Jan Willem Groen
Philips Blue Control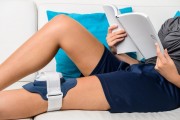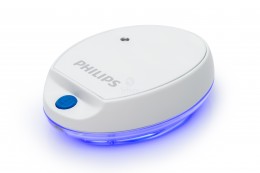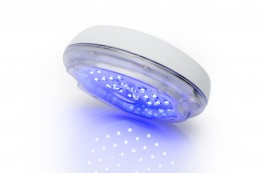 Last year I had the pleasure to consult and prototype in fixation and textile research during the development process of the Philips Blue Control: The world's first wearable blue LED light therapy device to treat skin disease psoriasis vulgaris. Now it is out there!!! Find more information about this product.
Keynote speaker @SIA-congres 2014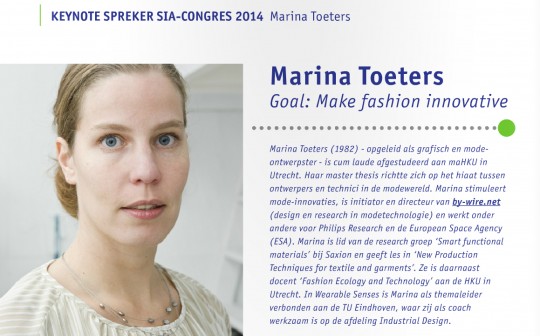 Marina is honoured to share her experiences as creative professional AND freelance educator at 3 different institutes during the event of universities of applied science in the Netherlands. Thursday the 27th of November 2014 in Den Haag.
De Kledingbibliotheek will select Marina's outfit for this event. Thank you girls!
Liverpool and Ghent
Busy week for the international office: Sunday till Tuesday in Liverpool (UK) discussing the Economic Value of the Creative Industry at the Apeldoorn conference. Thursday and Friday in Ghent presenting a paper together with Professor Loe Feijs about Actuating Movement in Refined Wearables at the Global Fashion Conference (BE).
Lovely inspirational events to discuss the relevance of fashion technology and meet a lot of new people!
ABN-AMRO publication Smart Fashion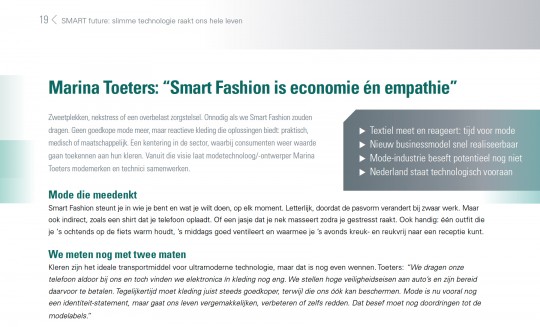 Download the total 'SMART Future' publication (in Dutch).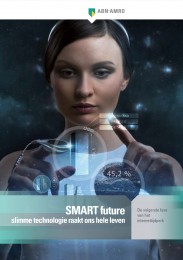 Designing a Courntry publication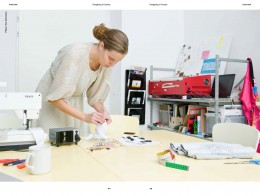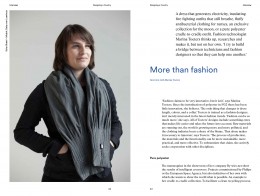 Download the publication.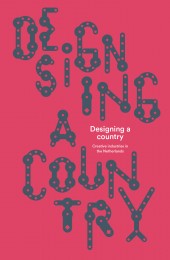 Smart textile workshops for kids – ZigZag festival Sept. 5 in Amsterdam
With the help of 7 talented students by-wire.net developed 4 smart textile workshops for kids between 3 and 12 years old. The ZigZag events aim to stimulate children, their families and teachers to learn more about the art of textile.
Commissioned by Waag Society for the ZigZag project. More info >>
1) Sound Embracer


Make your own music instrument out of stretchy fabrics, conductive yarns and electronics:
part 1 technique and part 2 stretch sensor is a combined workshop, appropriate for children at the age of 9 — 12 years with the help of their parents. Developed by Daisy van Loenhout and Daniëlle de Jonge.
2) Cable Monster
Do you know how to re-use old materials in a creative and original way? In this workshops we will use the 3D weave technique and give old materials a new life!  For children at the age of 6 — 9 years. Developed by Kris van Loon.
3) Light Cuddly

Design your own cuddly out of wool felt, a small lamp and other electronics. For children at the age of 3 — 6 years. Developed by Roos Buitendijk.
4) My Machine

Are you a true inventor? Build your own weave machine out of wood, plastic, baskets and little sticks. Follow the instructions or design your own machine! For children at the age of 3 — 6 years. Developed by Tessa Tailford and Zoé Daemen.
Edit and camera: Naomi-Jamie Venetiaan. All over assistance by Daisy van Loenhout.