2007 master thesis: collaboration in fashion technology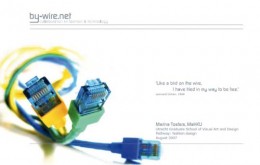 This is were is all started: my study fashion design at the Master department of the Utrecht School of Arts.
How to create collaboration between technicians and designers in the fashion world? The starting point of by-wire.net was the Master thesis of Marina Toeters for the MaHKU (Master Utrecht School of Arts). Several companies helped Marina during experiments with design and development processes. From this 6 garments were produced: Huggy Care, Tecatud, Triangled Coat, Fire Fighter Suit, Ecological Suited, Dyna Seat Dress.
The process was analysed and conclusions made: 'Collaboration is difficult. Some experiments identify problems that appear along the way. Communication is hard. 'For a successful collaboration you have to speak the same language.' (Vertooren 2007)
This can be created by shared experiences and references or learned by education, but 'understanding of technology is rapidly disappearing at design training institutions,' said Ed van Hinte (2006).
'Fashionable clothing hyperventilates.' (Robaard 2004) Technical companies produce slower. They experience time completely different. Knowledge about this is essential without ending in a disappointment.
Technical companies don't like to work with several partners. Secrecy is everything! Last pitfall is that most companies focus either on (fashion) design or technical developments. It is difficult to create a collaborative design if you don't physically work together.
A collaboration platform can solve some pitfalls. by-wire want to create a place where technicians and designers fuse together and start truly interdisciplinary projects with added benefits to society.
Download here